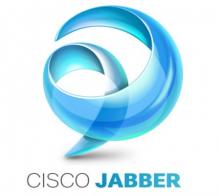 The Jabber software is a telephone soft-client for the CallManager phone system. A soft client allows you to use your computer to make and receive phone calls just like a normal desk phone. This can be especially useful if you regularly work in a location that has no mobile phone coverage but does have network (e.g. wireless) coverage.
Jabber also allows you to make & receive video calls and provides instant messaging & presence functionality. Video calls can be made not only to University video conference units, but any video enabled device connected to the public Internet.
To enable a user to use Jabber, follow the instructions for TLOs.
Information on Jabber clients, and how to login, are on the Using Jabber Soft Client page.
Jabber Limitations
The Jabber client operates in two modes: "Inside" and "Outside". When "Inside" the full suite of Jabber features are available. When "Outside" some features are unavailable. The unavailable features are:
Lookup Integration
File transfer via chat.
Sending screen captures via chat.
Control of desk phones.
Cisco designed Jabber based on a normal corporate network architecture which has a clear definition of "inside" and "outside". Unfortunately, at Cambridge, we don't have this clear distinction - especially for services run centrally by UIS. As such, by default, we have to treat everyone as being "outside" by default.
Computer Officers may wish to check this page giving a bit more details of how Jabber works out whether it is "inside" or "outside".
Jabber Configuraton URL
Sometimes, Jabber fails to correctly detect its configuration. If you have problems logging in, try resetting the Jabber client, then follow the link, below, to start your Jabber client. (Unfortunately, this link does not work on every computer with Jabber installed)